Distinguished Service Award 2016: Wayne A. I. Frederick, M.D., MBA, FACS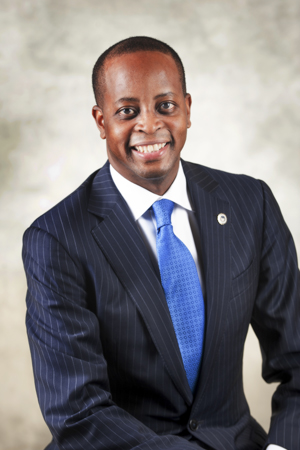 Howard University, President
Wayne A. I. Frederick, M.D., MBA, FACS
Office of the President
2400 6th Street
North West, Suite 402
Washington, DC 20059
As the 17th President of Howard University, Dr. Wayne A. I. Frederick is dedicated to continuing the University's legacy of being a world-renowned academic and research institution.
Under Dr. Frederick's leadership, there is a renewed commitment to academic excellence and access to an affordable education. He recently launched Howard's Center for Academic Excellence, a center created specifically and wholly to provide student retention support services to increase undergraduate success. He also introduced the Graduation & Retention Access for Continued Excellence (GRACE) grant program, which provides need-based funding designed to reduce financial barriers and increase on-time graduation.
As a triple alumnus, Dr. Frederick's devotedness to Howard University spans more than two decades, beginning with his enrolling as a student. Born in Port of Spain, Trinidad, he was admitted to Howard University at the age of 16 with a dream of becoming a physician. His passion to serve and to heal was driven by the personal impact of sickle cell anemia, a hereditary disease with  which he has lived since birth. He earned a Bachelor of Science degree, a Doctor  of Medicine, and completed his surgical residency training at Howard University Hospital. After fulfilling his post-doctoral research and surgical oncology fellowships at the University of Texas MD Anderson Cancer Center, Dr. Frederick began his academic career as Associate Director of the Cancer Center at the University of Connecticut, where he also served on the Department of Surgery faculty.
Since returning to Howard University in 2006, Dr. Frederick has served as Interim President, Provost & Chief Academic Officer, Associate Dean in the College of Medicine, Division Chief in the Department of Surgery, Director of the Cancer Center, and Deputy Provost for Health Sciences. He also earned a Master of Business Administration.
As a distinguished researcher and surgeon, Dr. Frederick is the author of numerous peer-reviewed articles, book chapters, abstracts, and editorials. He has also received numerous awards honoring his outstanding scholarship and service. In June 2014, Congress recognized him for his contributions in addressing health disparities among African Americans and  historically underrepresented groups.
Dr. Frederick's groundbreaking research and examination of the unconscious bias in academic medicine has been presented to scores of national and international audiences. His research findings recommend changes to pedagogy, curriculum reform, and inter-professional instruction. Through his experience as a scholar and an administrator, Dr. Frederick continues  to support innovative solutions to further the mission of Howard University and support the success of its students.
Dr. Wayne A. I. Frederick is a true son of Howard University—a proud and loyal exemplar of the University's motto, Veritas et Utilitas (truth and service).