GMI-1070 Newsletter Text for Community Organizations Study Underway for Patients Experiencing Pain Crisis Associated with Sickle Cell Disease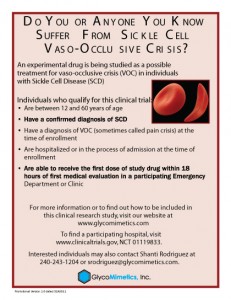 Do you or someone you know suffer from pain crisis associated with sickle cell disease (also known as sickle cell vaso-occlusive crisis or VOC)?
An investigational drug, GMI-1070, is currently being studied in individuals with sickle cell disease in VOC. Patients who qualify and agree to take part in the study must be between the ages of 12 and 60 and have a diagnosis of VOC at the time of enrollment. If you participate in the study, you will receive the study drug, in addition to standard pain medications. There is no cost to participate in the trial.
Learn more about the trial and study sites by visiting this page on clinicaltrials.gov: http://clinicaltrials.gov/ct2/show/NCT01119833?term=glycomimetics&rank=1 or by contacting Shanti Rodriguez (srodriguez@glycomimetics.com; phone 240-243-1227).
More information is also available on www.glycomimetics.com
Promotional Flyer V1.0 dated 31AUG11 GlycoMimetics